I posted a few days ago about the incredible results for verse at the ALA Youth Media Awards. The accolades are evidence of what a great year verse had in 2012. But ALA is also about seeing what's to come. I had a blast talking to publishers about verse, giving them buttons and hearing about what they had in the works. I came home with a few ARCs I had been looking for: THE LANGUAGE INSIDE by Holly Thompson,  GONE FISHING by Tamera Will Wissinger and THE WEIGHT OF WATER by Sarah Crossan. I also discovered two upcoming verse novels that I wasn't aware of: SALT by Helen Frost and ODETTE'S SECRETS by Maryann MacDonald. Finally a savvy promoter at Sourcebooks suggested THIS JOURNAL BELONGS TO RATCHET by Nancy Cavanaugh which although in journal format contains a lot of poetry.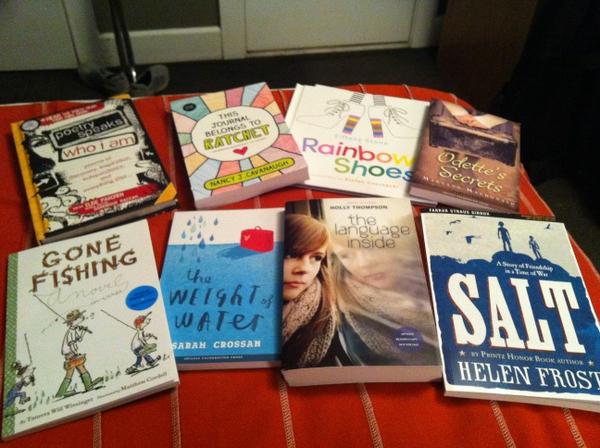 I also scored a couple of poetry books. A lovely picture book by Tiffany Stone called RAINBOW SHOES and really great looking collection also from Sourcebooks called POETRY SPEAKS: WHO I AM. I can't wait to dive into this one, actually, because it includes a CD of poets reading their poems. This is not a new book; it was published in 2010 but Sourcebooks was kind enough to give me a copy.
I asked most exhibitors about verse. Many were eager to show me what they had. Others confessed that had very little or nothing. The small presses who publish the bulk of new poetry can't afford to exhibit at ALA. The agents I spoke to said "verse novels were very hard to sell". The school/teen  librarians I spoke to said "my patrons LOVE verse novels". Where is the disconnect? I hope to be at ALA annual in Chicago, flying the verse flag, promoting my own verse novel, and generally doing what I can to keep verse alive.
What else can we do?